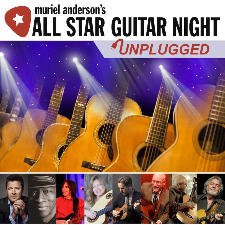 Hello all,
I just got word that Muriel Anderson will be hosting her All-Star Guitar Night on Saturday June 25th at one of the best music clubs in Nashville 3rd & Lindsley!
Time: Saturday June 25th 5pm
Admission/Ticket: $15
Where: 3rd & Lindsley
Address: 818 3rd Avenue.
Venue phone: (615)259-9891.
Featuring Bryan Sutton, Jack Pearson, John Knowles, Dan Bankhurst, Johnny Hiland, Thom Bresh, Daniel Champagne, Muriel Anderson and surprise guests. Benefits the Music for Life Alliance
You can get all the information and purchase the tickets here...
MURIEL ANDERSON'S ALL STAR GUITAR NIGHT UNPLUGGED
These are always great events. (Unfortunately, I won't be able to be there because I'm already booked to play a wedding.)
If you're still in town for the conference then definitely make plans to go. 3rd & Lindsley has great food so you can eat dinner there.
This is sure to be a sell-out and it will probably sell out in just a few weeks so please don't wait to get tickets. Unfortunately, since this is not a conference event everyone will be on their own for purchasing the tickets they need.
Shaping up to be a great week here in Nashville!
(I should be able to announce a BIG announcement on our live lesson guest for Friday night June 24th by tomorrow!!!)
- Steve